THE CITY OF GRANADA




The city of Granada has some of the most spectacular views in the world and boasts a wealth of historic monuments and cultural icons. However, being in one of its historic districts, such as the Albayzin, Sacromonte or Realejo, feels like being in a village close to the countryside, although all are only five to fifteen minutes on foot from the city centre. These districts (or barrios) are not mere suburbs but former cities in their own right with their own centres, facilities, commerce, culture, traditions and even dialects.
Because of the topography of Granada many areas, especially in the Albayzin, enjoy spectacular views. And if you don't want to climb the steep cobbled streets there is a microbus service every ten minutes or so, which will drop you off close to your destination.
Being only forty five minutes from ski-ing in the Sierra Nevada and even less from the beaches at Salobreña and Almuñecar, Granada enjoys fantastic recreational facilities. The city is surrounded by wonderful countryside with truly fabulous views offering walking, climbing, trekking, cycling and sports such as golf and hot air ballooning and Granada itself enjoys tremendous sports facilities. There are seven municipal sports centres, another fifteen outdoor sports arenas, covered swimming pools, an indoor and an outdoor stadium and a floodlit running track.
Other historic Andalucian cities such as Cordoba, Sevilla and Málaga are all within easy travelling distance by train or inexpensive air-conditioned coach.

CLIMATE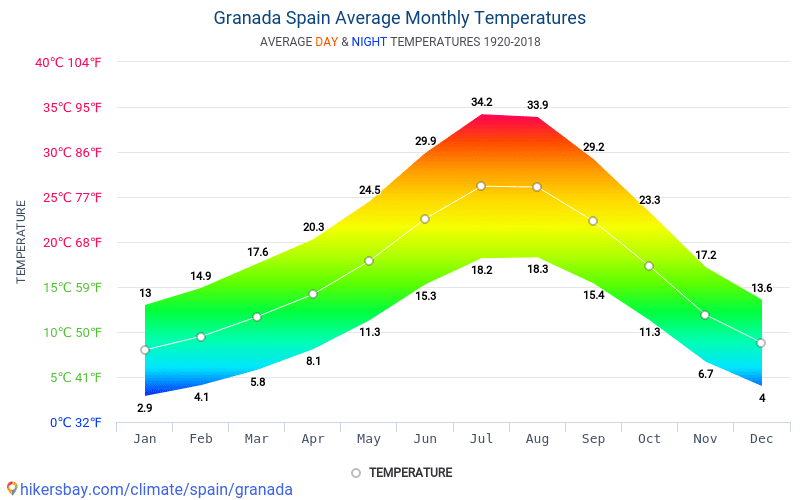 Granada enjoys a continental climate with hot summers and beautiful winters, which are cold but dry and very sunny. Frost is rarely seen because of the lack of humidity in the air. It is normal to eat outside at all times of the year, in winter sitting in full sunshine and in summer well under shade. Rain falls mainly in November and March/April and there is rarely much wind.

CULTURE


Granada has two theatres and a number of music venues from concert halls, intimate clubs and flamenco zambras in caves to stadium sized venues featuring, international artists such as R.E.M. and Van Morrison. Each year the city hosts a number of important festivals such as the International Festival of Music and Dance (June/July), International Jazz Festival (November) and the International Young Film-makers Festival (April). These are in addition to such traditional festivals of Semana Santa (Holy Week, Easter), las Cruces de Mayo (May Crosses) and Corpus Christi which is a week-long fiesta of dancing, eating, fairgrounds etc. ere.
The city centre is lively and has a great number of terraces on which to relax and watch the world go by. Granada is one of Spain's principal university cities and there is a very large student population (65.000) which contributes greatly to the city's ambience and cultural diversity.

ALBAYZÍN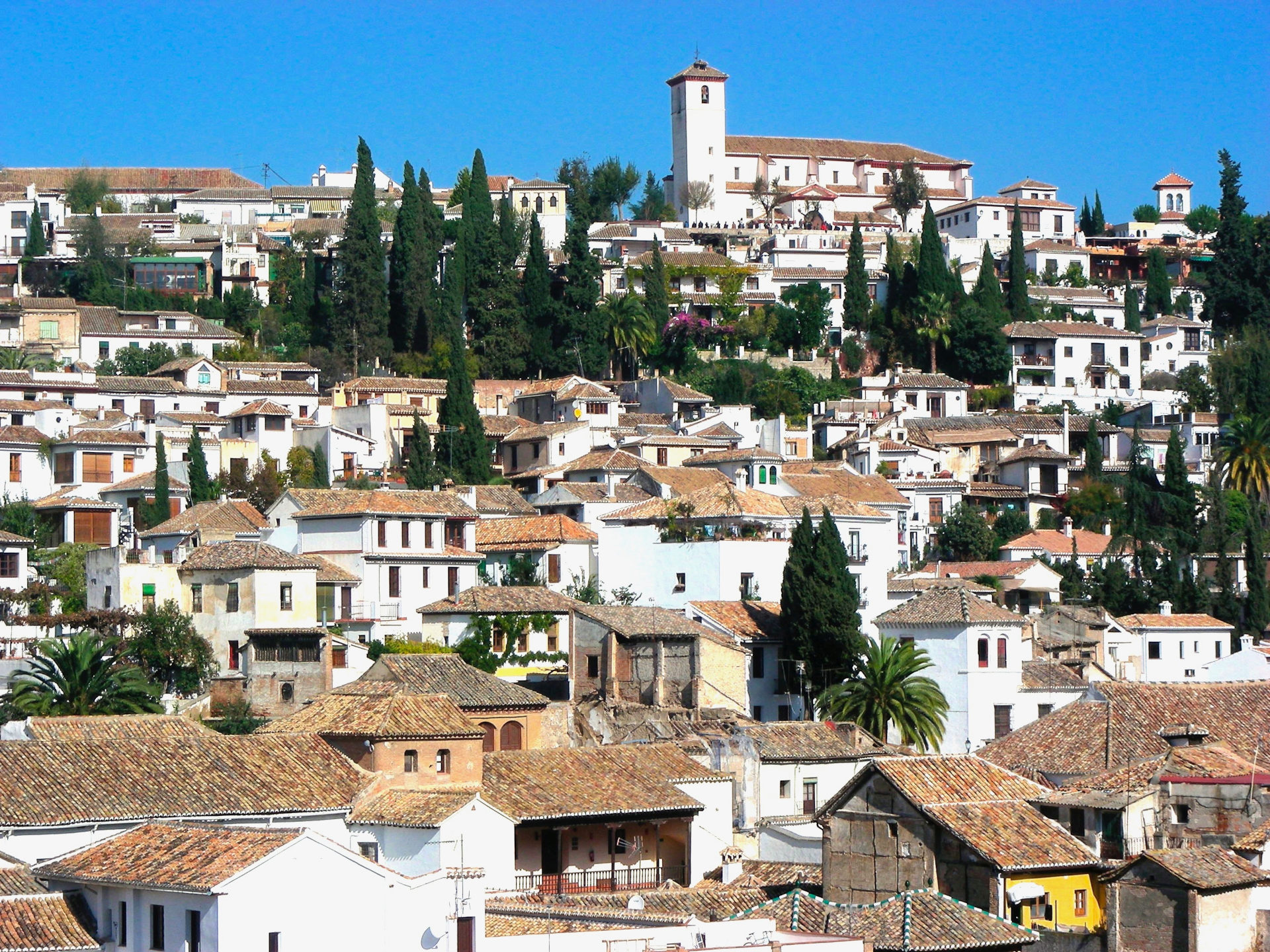 The Albayzín barrio sits on the steep hill opposite its former arch rival, the Alhambra. Both still retain their distinctly Moorish flavour, both are declared World Heritage Sites by Unesco but whereas the Alhambra is now only a monument (Spain's most visited, with 3 million visitors a year) the Albayzin remains what it has always been: a village within the city, home to poor and hugely wealthy alike, a maze of narrow cobbled streets, whitewashed houses and magnificent carmens with breathtaking views of the Alhambra and the snowy Sierra Nevada.
Previously a "humble" district, as the Spanish say, it is now highly favoured for its views, its picturesque character, its heritage, its tranquility and its proximity to the city centre. Most properties located in the barrio are within 10 - 15 minutes walking distance of the city centre.
For foreigners of all ages and backgrounds the Albayzín is definitely the most favoured area to live in.

SACROMONTE

Sacromonte is the former gypsy quarter famous for its flamenco zambras. Every night of the year small buses bring in hundreds of tourists to participate in the flamenco concerts held in various small, mostly cave, venues. Like the Albayzin it consists of narrow cobbled streets with whitewashed houses which cling to the Northern bank of the River Darró. On the opposite side of the river is grassy mountainside and escaping to the countryside involves no more than a short walk.
Sitting opposite and slightly to the East of the Alhambra Sacromonte enjoys spectacular views and has a charming, semi-rural feel. Although it is slightly further from the city centre there is an excellent and frequent micro-bus service which takes only 15 - 20 minutes to arrive at the very heart of the city.

REALEJO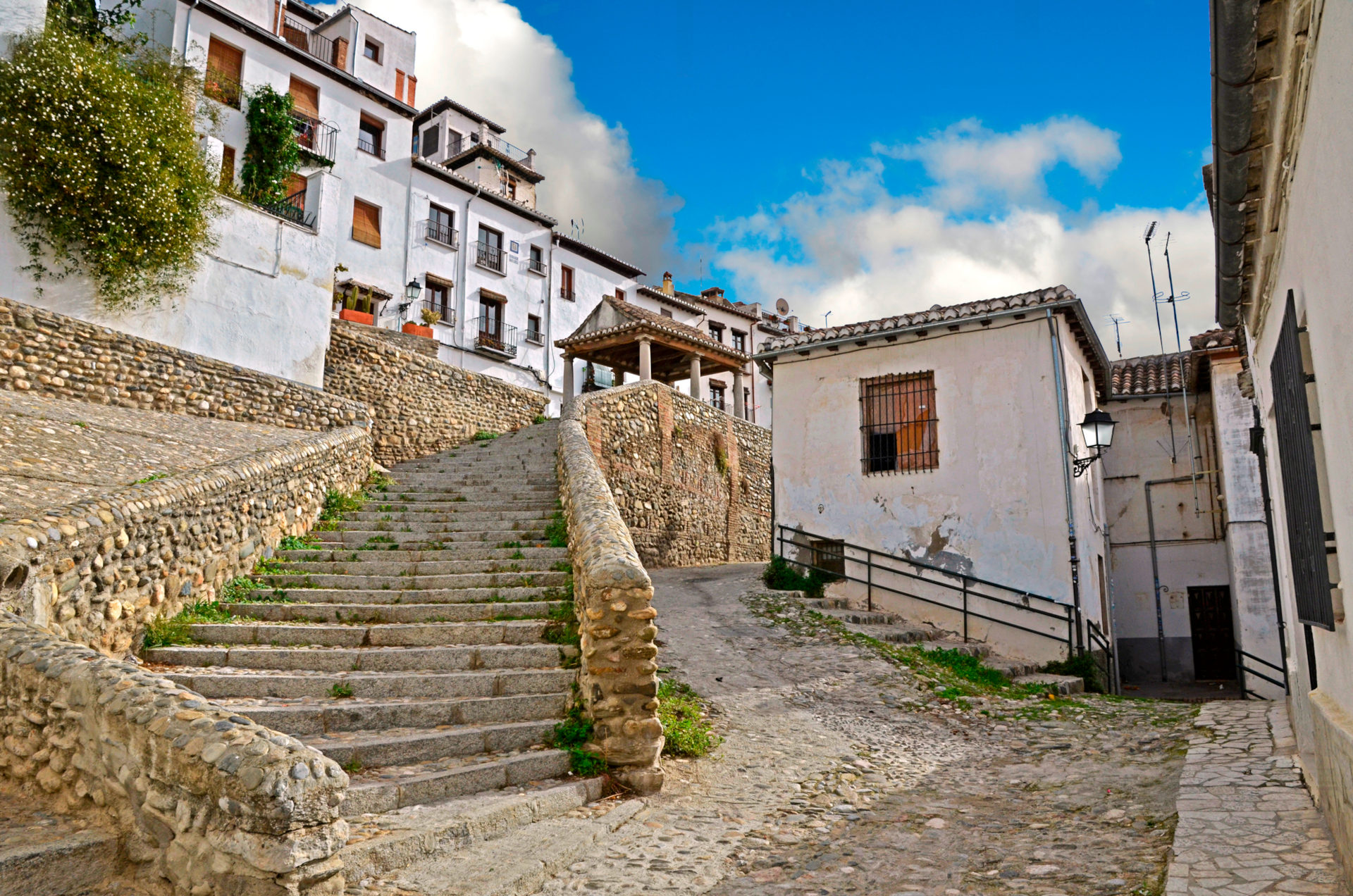 Like the Albayzín, Realejo is one of the oldest and most historic areas of Granada. Originally, the Jewish quarter of the Moorish city, the barrio is situated on the Western slopes of the Sabika hill below the Alhambra. Originally known as Garnata al-Yahud (Jewish Granada) it was renamed by the Christian monarchs after the Conquest of 1492 to Realejo, or royal encampment.
Realejo consists of two areas, the steep hillside below the Alhambra and a flat area extending away towards the vega (plains) of Granada.
The steeper area is known as Antequerela because the Moorish population of Antequera settled there when the Christians occupied their city in the early 15th Century. The flatter part of Realejo has not preserved its former historic style in the same way as Antequerela.
Centrally located and tranquil with all local services, Realejo has many carmens, some preserved in their magnificence, others still in need of renovation.
For more information please contact us at info@albayzinproperties.com