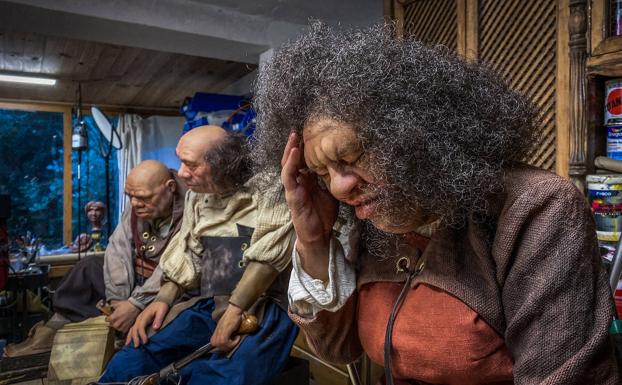 They've become nationally and internationally acclaimed for their intricately detailed and human-like puppets made of carved wood and silicone and performances accompanied by live orchestral music. They have innovated and adapted their shows for huge audiences by using ultra-violet lights to make the puppets more visible in huge sold-out performances in auditoriums like Manuel de Fallas that traditionally were thought inadequate for puppet theatre.
The tale of success of Granada's Etcétera Puppet Theatre Company began with a twelve year old boy discovering his grandfather's hand-carved puppet in a room in his parents' house in Granada. Enrique Lanz's keen interest in the craftsmanship of the wooden puppet and in his grandfather's profession and past inspired him to found Etcétera a few years later in 1981 with Fabiola Garrido. To this day the puppet company still exists and thrives as one of the great reference points in the world of puppetry in Spain.
To mark their 40 years of success, the Palacio de Congresos y Exposiciones in Granada held a series of performances of Etcétera's 'Soñando el festival de los animales' from the 25th to the 28th of December 2021, a show coproduced in 2004 with the well-known Teatro de Liceo in Barcelona.
The puppet company has certainly moved around Granada. It started in the Casa de los Migueletes, in the lower Albaicín, later it moved to a large warehouse in the Vega of Granada and finally settled in Güéjar Sierra where it still remains to this day.
Their very first production, called 'Sypnosis', came about in 1985 and remained their star act for fourteen years. Interestingly enough, the name came about when a friend of Enrique's, writer Antonio Muñoz Molina, suggested the title while enjoying an ice-cream together at Los Italianos, an adored ice-cream parlour and another age-old company that also continues to flourish today.